To celebrate the fantastic season of 2018-19 and the conclusion of our Villawood Summer Series, we held our Club Presentation Night at the GPO on March 30th.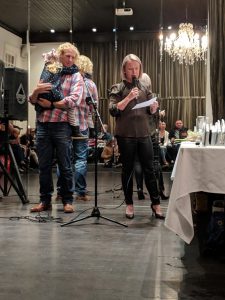 Club President Mel Wilkie and Vice President Damo Hughes presented trophies, medals and prizes to the club champions across long and short course, male and female and in each age group.
Our champions were well-looked-after by our sponsors, with our Aggregate Champions in the Long and Short Courses winning a $175 voucher for Reilly's Home Appliances, and our Male and Female Long and Short Course Champions each winning a $150 voucher for OPSM.
The full list of winners is below.

Club Champion Long Course
Markcus Brown
Damien Hughes
(Sophie Hawken finished 1st in the Club Championship Race for the women but was ineligible for the championship as she had not completed enough club races during the season. Likewise Coby Henderson finished 3rd in the Club Championship Race for the men but was ineligible for the same reason.)
Club Champion Short Course
Oliver Sanderson
Lyn Seibre
Age Group Champions Long Course
Age Group Champions Short Course
Congratulations to all of our Club Champions for the 2018-19 season and we look forward to seeing you in September for our first race of the 2019-20 season!